Ninja Info Card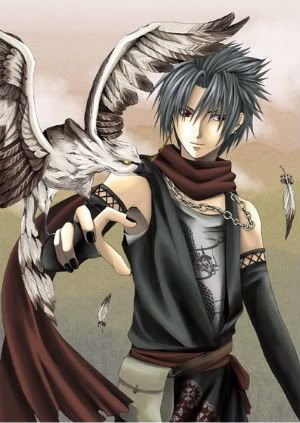 Personal

Name: Adachi Miyamoto

Alias: None

Age: 11 years old

Gender: Male

Height: 5'9"

Weight: 140 lbs

Element: Fire

Language: Common

Appearance: Adachi stands tall at 5'9". He has jet black hair that he often leaves hanging and piercing emerald eyes. His physique is built, but lean, prioritizing speed and maneuverability over raw strength. He has a scar on his cheek from an accident he had when he was a young boy. His nose is slightly crooked from a broken nose he received during a fight with a fellow student during his time at the Academy. His usual attire consists of a grey undershirt with a black vest on top that extends past his waist and is secured by a rope belt. He wears long black sleeves on his arms. He wears a crimson scarf around his neck.


Social

Class: Shinobi

Rank: Genin

Village: Kawagakure, Sun Country


Statistics

Level: Level 5 [0/50 EXP]

Ninjutsu D C
Genjutsu D
Taijutsu D
Seals D C B
Strength D
Speed D C
Intelligence D C
Endurance D
Stamina D

D Rank Missions: 0
C Rank Missions: 0
B Rank Missions: 0
A Rank Missions: 0
S Rank Missions: 0

D Rank Crimes: 0
C Rank Crimes: 0
B Rank Crimes: 0
A Rank Crimes: 0
S Rank Crimes: 0


History

Background:
The Beginning
Kinsei Miyamoto and Chiro Namatame. These were Adachi's parents. They were the leaders of a small band of thieves that called themselves the Grey Hand. They committed petty theft, mainly. Never scoring anything more than 1500 ryo per job. They stole mainly out of necessity. The band was filled with beggars and outcasts with hardly a coin to their name. When Chiro found out she was pregnant, the two parents began to seriously think about their lives. In the end, they decided to leave their son on the doorstep of an orphanage in Kawagakure, with nothing but a letter telling them their son's name. They figured that a life in an orphanage was better than a life as a wanted criminal. They intend to come back for their son when he comes of age. Then he can choose the life he wants to live.
Adachi's Orphanage Years
Adachi was found on the doorstep of the orphanage by a kindly old man who worked there named Mio, a former Shinobi who was forced into retirement due to his age and a crippling injury he received while on a mission. Adachi was different than the other children growing up. He often had a hard time making friends due to his drive to one day become a real ninja. He took this dream after hearing story after story from Mio about his days traveling to foreign lands and assassinating high ranking criminal warlords. Adachi decided that he had no time for friends. Training so that he could one day get into the Academy was the most important thing to him. He was ridiculed by some of the other children. He didn't care though. To him, his dream was all he had. He spent day and night training to be a ninja until his knuckles and knees were bloody rather than playing ninja like the other children did. Adachi grew closer to Mio over the years. The old ninja often stated how much Adachi reminded him of himself at that age. Unsurprisingly, Mio, who had no children of his own, adopted Adachi, deciding that if he could no longer be the best Shinobi he could be, he would enable Adachi to do so.
Years Leading up to the Academy
Life with Mio was often rough. While the old man had a kind demeanor about him most of the time, when it came to training, he fit every stereotype of a drill sergeant one could think of. Once the training started, Mio was no longer Adachi's friend. He was his teacher and he was determined to mold Adachi into a model Shinobi. The training was mainly focused on bettering Adachi's athletic potential. The training was difficult, but it only served to temper Adachi's desire to one day become a ninja. Imagine Adachi's surprise and delight when he was accepted into the Academy. The path he desired was finally open to him. He was one step closer to his dream, and he would achieve it at any cost.
The Academy
In the Academy, Adachi was a model student. He kept up with his training at home of course, but with the added benefit of his training at the Academy. Early on, it was clear that he had an affinity for Ninjutsu. He excelled in that regard and that gave him much confidence. He was so proud when he learned his first Jutsu. It was nothing special, just the Clone Jutsu, but it was still a major achievement in his eyes. This only served to deepen his desire. Adachi later passed the Genin Exam with flying colors. He had finally done it. All of his hard work and dedication had finally paid off. He at last achieved his dream of becoming a ninja.
Sample Post:
Many beads of sweat trickled down the ten-year old Adachi's face. This made 1537 times he struck this wooden post. The face of the wood was severely worn away from many hours of training.
"Once more!" The elderly man with a cane ordered. This was Mio, Adaci's 70 year-old adopted father. A former Shinobi in the village.
"But Sensei!" Adachi called out breathlessly. "I'm so tired! Can't I go inside and rest? Haven't I done good enough?" Mio wasn't officially Adachi's Sensei. Adachi wasn't even in the Academy yet. But the old man had earned Adachi's respect, and since the man agreed to train him, Adachi figured that it would only be right to call him "Sensei". The old man hadn't objected to it yet.
"You dare to aspire to be a ninja with that attitude? I've seen s**t that will make you cry and cower in fear! If you don't train as hard as you can now, you'll be killed within a week! Especially with punches like those! Are your arms made of noodles? Come on! Just 500 more! If you don't get it done within the hour, so help me, you will run 1000 laps around the village! Now go!"
The threat of even more physical activity served to waken Adachi's aching and tired muscles. "Yes Sensei! Thank you Sensei!" He then went back to pounding on the post. The wrappings around his fists didn't help much, as was evidenced by the crimson blood soaking through them. Just 500 more, than he could have dinner. That roast duck was calling to him.
Edited by King Waffle (Adachi), 11 September 2015 - 11:12 PM.