Ninja Info Card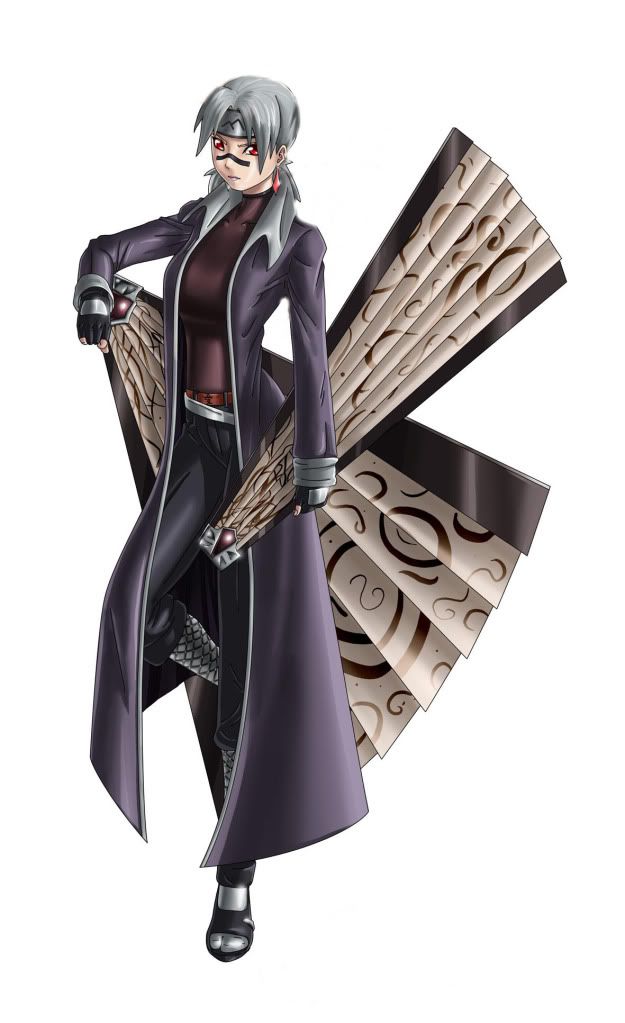 Personal

Name:

Dao, Luv Li

Age:

18

Gender:

Female

Height:

5'5" ft (167.64 cm)

Weight:

115 lb (52.1 kg)

Element:

Suiton
Fuuton
Doton

Language:

Common
Sati

Appearance:

Luv is fair skinned, five and one half feet tall, and has a body like a whipcord from the all her years as a professional acrobat and shinobi training. Her upper body is tone and her legs are well defined, showing their power, without losing any womanly qualities. Her hair is silver with a healthy sheen; her eyes red and rich with Dao heritage. She is normally seen wearing purple form fitting and black pants. Over this she wears a full length jacket. Typical tabi footwear adorn her feet. On her back she carries a backpack that is kept tight to the back and doesn't bounce around and can be removed easily by her. On her hip is a hip sack kept to the back above the right. Seals adorn the hip sack where she has many of her kunai sealed.

Social

Class:

Shinobi

Rank:

Chuunin
ANBU [Bear Division]

Village:

HIdden Village in the Steam

Clan

Dao

Statistics

Level: 19 [125/200exp]
Ninjutsu D - C - B
Genjutsu D
Taijutsu D - C - B - A
Seals D - C
Strength D - C - B
Speed D - C - B - A - S
Intelligence D - C
Endurance D - C - B - A - S
Stamina D - C - B

D Rank Missions: 10
C Rank Missions: 7
B Rank Missions: 4
A Rank Missions: 3
S Rank Missions: 0
D Rank Crimes: 0
C Rank Crimes: 0
B Rank Crimes: 0
A Rank Crimes: 0
S Rank Crimes: 0

History

Background:

Previous RPC Profile
:
Dao-Lune, Luv Li
Edited by RyouKachi, 06 December 2015 - 03:24 PM.