Seitokai Gakkou
What is this ?:
This is a School that Uehara, Shin will be creating after the Demon event is over, after the Demons have been sealed, he will create a school that sits upon the seal of the demons. In this school there will be high ranking teachers, Rpcs and Npc's A like, the school will be akin to the TSU but just a bit more spicy, and more plot oriented. Here you will be able to learn you basics in a class room or field oriented scene, or if your sensei or teacher wants, out in the world somewhere else.
Whats the point in all this:
Basically, its something i want my rpc to start, to give to the community of Tnf, its just a fun new way to Meet rpcs, train and learn, of anything you want to basically. There will be classes held all the time about demons, and how to defeat them if they ever should arise again and missions to take on any lingering demons left in are world, for whatever reason there still here. No one will be forced to stay if they wish to teach, the same goes for the students at Seitokai Gakkou, its a free place for rpcs to meet and train and learn, not a prison.
Seitokai Gakkou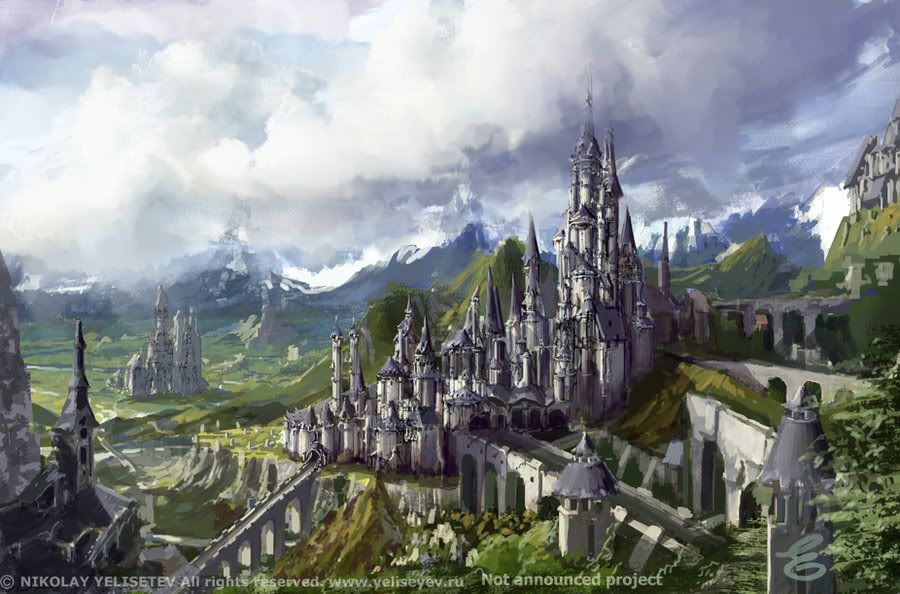 Seitokai Gakkou was made by the hands of Uehara, Shin also Known as Shoda, Kenpachi, changed from a missing ninja onto the path of a regular nin through the events of the demon invasion. He created this school in order to combat future attempts at Demons invasions, and to teach the youth of today what to do if such things would happen. The School its self was built upon the seal in which the demons were locked away once again, Shin barley leaves this school for the fear that when he does the seal will be broken by someone or something, and everything will be let loose again. So he brings students to him, the school is open all year long, and welcomes Academy students as well as Elite Jounin, you can never stop learning, that is something that Shin now lives by, and continues to learn even now.
Seitokai Gakkou: The School
Seitokai Gakkou consists of 22 Floors, each floor consisting of about twenty to thirty rooms, it is a huge school used for only the finest teaching. Each room is outfitted with the most up to date teaching equipment, The first through Second floors are considered the "Regular" teaching floors, these floors are used to teach the basics of life to all students, this being Math, Japanese, Social Studies, Geometry and History. Classes are held from 8:00am till 2:30pm and 8:00pm to 2:30am, you can choose to attend regular classes with your Shinobi studies, however it is not mandatory.the third through sixith floors consist of Medical laboratories as well as classrooms catering to Medical Ninja and Medical Teachers. The Seventh through Eighth floors consist of Purely Weapons, the rooms are set up with training dummies as well as obstacle courses to test weapon, accuracy and speed. The Ninth through Tenth Floors Hold room upon room of different elemental arenas, These are used for Spars, as well as Learning Ninjutsu. Its better to learn a jutsu when you are surrounded by the element in which you are, as for Non elemental Jutsu there are chakra rooms.
From the Eleventh to the Fourteenth Floor, you can find Mock towns, and villages, these are tactical classrooms, to work on teamwork and leadership skills. Each room is outfitted with different scenarios as well as a full set of opposing member, they are there 24/7 and switch rounds every 12 hours for your use. From the Fifteenth Floor to the Seventeenth floor, are high chakra saturated rooms, these rooms help in ones ability to use Genjutsu, they make it easier to send chakra to your opponent, which in turn makes the whole process easier. The Eighteenth floor to the twentieth floor are used purely for Taijutsu skills, these walls and rooms were built specifically to handle the power of the gates, and allow practitioners to go all out. There are many classes ranging from Anatomy to grappling, something for everyone, the classes however are full contact at all times, you have been warned. The Twenty First Floor holds the teachers lounge, where they can find lockers as well couches in the rather spacious floor, however it is smaller than the rest of the floor. The final Floor is the teachers Lounge and personal quarters of Uehara, Shin the Principle of Seitokai Gakkou.
Seitokai Gakkou: The Attire
Seitokai Gakkou insists that you wear there custom made to order School uniforms, they can range in any color any student asks for, however they must make no alterations to it, anyone caught doing so will be slapped upside the head and sent on there marry way. Seitokai Gakkou Consists of a Day school for those Morning go getters, and a Night school, for all those lazy night owls, each are assigned there own specific school suit uniforms pictured below.
Female School Uniforms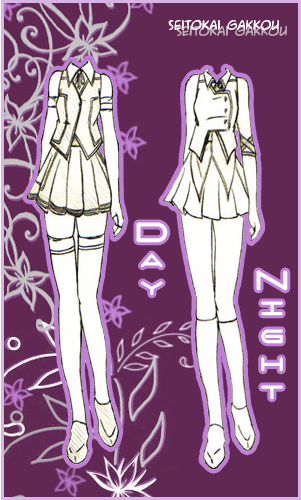 Male School Uniforms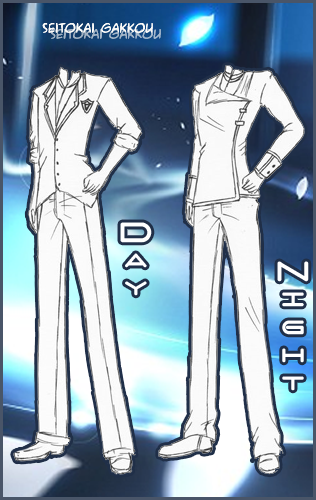 Seitokai Gakkou: The Grounds
The grounds surrounding Seitokai Gakkou have been set up so that any kind of demonic movement under the ground will be notified through the school almost instantly. The Grounds consist of about 200 Acres of different types of terrain, plains, forest's, swamps and at the very end of the land exists a Tundra. The Grounds directly around the School consist of out door fighting arenas and stadiums for events arranged by students and or Teachers, these will be separate events lead either by the staff or student who arranged them. The school also has Student Housing for free, each housing Unit has a Resident which is Jounin + and controls all those who live there, making sure no one gets out of hand to often. This is not a prison but remember this is still a school, the amount of Dorms match the amount needed by the amount of people attending the school, never more and never less, this means there is never an abandoned building within Seitokai Gakkou.
There are Four Entry Towers in which you must pass through in order to enter the school grounds and attend Seitokai Gakkou, a full set of credentials must be provided in order to enroll. If you do not have these, or cannot get them, the school will help you in allocating them and or creating them, they will not be gotten in any other illegal way, if they are done so, they will be rejected from the school. The Four Towers are the Only ways to enter the school and not be considered an Enemy, unless the person entering knows Shin himself, it is strongly advised that you use one of the four entrances, each entrance is monitored by 4 chuunin level guards at all times. Entrance usually takes about a Day or two, then one can go on a guided tour of the school and or enroll right away for classes, or finding a team to go through school with.
Seitokai Gakkou: The Dead Forest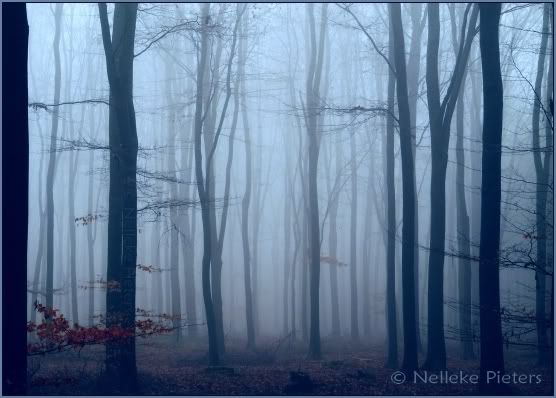 The Dead forest got its name from the Demon invasion, this was dubbed as such by Shin, and was deemed to dangerous to be explored further, the forest is on the south side of The Grounds. The forest was deemed to dangerous for the reason that Demons still roam that forest, they are weak in a sense, so much so they cannot leave the forest, they can only remain alive within the forest of the dead. This is partially why Shin had chosen to make the School to watch over this place and to keep it safe, the forest takes up a large portion of the school Grounds, taking a good 100 acres or so, it hasn't been fully explored yet. The Demons every once and a while gather enough strength to bring attacks to the school, but a thwarted by the staff and students, Shin has hope for his students.
The forest is also fully of wildlife however, they tend to keep the lower of the demons in check however, the forest seems to be overrun with rather Large Bears, these bears are immensely strong. So there is no wonder how they can keep them in check, no student is allowed to enter the Forest without the Okay from the head master or if there class is going on a trip there. Even then, only select teachers can be selected to take classes on there own, all others must have at least two Chuunin level teachers with them, Npc or Rpc.
The Forest its self being such a dangerous place it has its own grounds keeper and a flock of bears which were mentioned above, they range in age and in strength, they are there to protect the school. The thwart Demonic energies from rising to high and keep the peace within the forest if anything gets to out of hand, they are the Guardians of the Dead Forest.
Seitokai Gakkou: The Basement
The Basement of Seitokai Gakkou is a winding labyrinth that you can get lost in, in just a few moments, you have to be shown exactly which way to go or you will get lost, there is no fighting the concept. Shin created it this way for a specific reason, the Seal to which the Demons are sealed within is underneath the Basement, it is connected to the very structure its self, Shin and a few others had developed a seal in order to connect the seal to the building itself. There are Cells, and rooms down in the basement used for different things, Ranging from Kinjutsu development to Prisoner cells. They are used for a variety of different things, the amount of Floors known only to Jounin + Staff and the Head Master Shin him self.
If someone stumbles down there however, traps are set on each floor to defend against them, weather they be friendly or not, going down without a guide is a death wish to all but the highest of Shinobi ranks. There is however a simple way down from the Headmasters Head Quarter, a simple tunnel that is reinforced metal and chakra treated to only clear its path when Shin implants chakra into it, giving a straight line down to the demon seal its self. Everything has been done to ensure that the demon threat will never become apparent once again, Shin has done everything in his power to do so, including opening this school and training these kids.
SIDE NOTE: This is not finished, if enough interest is shown, different threads for each corresponding fighting style will be made, one for the grounds and one for the basement and what not, it will be a massive multi thread all year long event for everyone, missing nin or med nin, all are welcome.
~~~

Head Master/Vice Principle
Shoda, Kenpachi (a.k.a. Uehara, Shin)
....?
Potential Teachers:
Ninjutsu:
Kudo, Ishi (Ishi_kudo) [Ink Jutsu 101]
Kudo, Ishi (Ishi_kudo) [Puppetry a Life style]
Genjutsu:
Taijutsu/Weapons:
Pet Training:
Miyuki & Kai (enkou) [Pet Trainings]
Grounds Keepers:
Miyuki & Kai (enkou) [Grounds Keeper of the Dead Forest]
Medical:
Yuki [School Nurse]
Ryuuko, Victor [Medical Class 101]
Stealth & Tactics:
Senuki, Shin (Aet) [Stealth & Tactic's Classes]
Ryuuko, Victor [Deception Classes]
Gora, Ulrich [Field Control]
Survival:
Demon Prevention:
professor Maru [Demon 101]
Miscellaneous Classes:
Isashi, Kouji & Kudo, Ishi (Afroninja/Ishi_kudo) [The Art of Art]
Undecided Teachers:
Shinku Tsubasa (Evee) [Undecided]
Ako, Blazestorm
What can the facilities be used for ?
So, you might be wondering, why bring students and teachers here, they can just do this stuff anywhere, while this is true yes, it brings a little bit of depth to the board. It brings depth to the rp community as a whole allowing for a new hub for rpers to do things together, based on current events and what not, i've put together a little list of what these threads and such can be used for below.
Classes
Genin Team Acquiring
Genin Team training
Random Events (i.e Baseball games, Hide and seek, Holloween events)
Missions
Jutsu Training
Jutsu Development
Story Building
Just a few things listed above, but i believe this will give us something new to do, rather than just some old thread thats been around forever, this i think should be fun for everyone and well have something for everyone. So i hope you all consider *nods* This will be starting some time after the Demon invasion *nods*